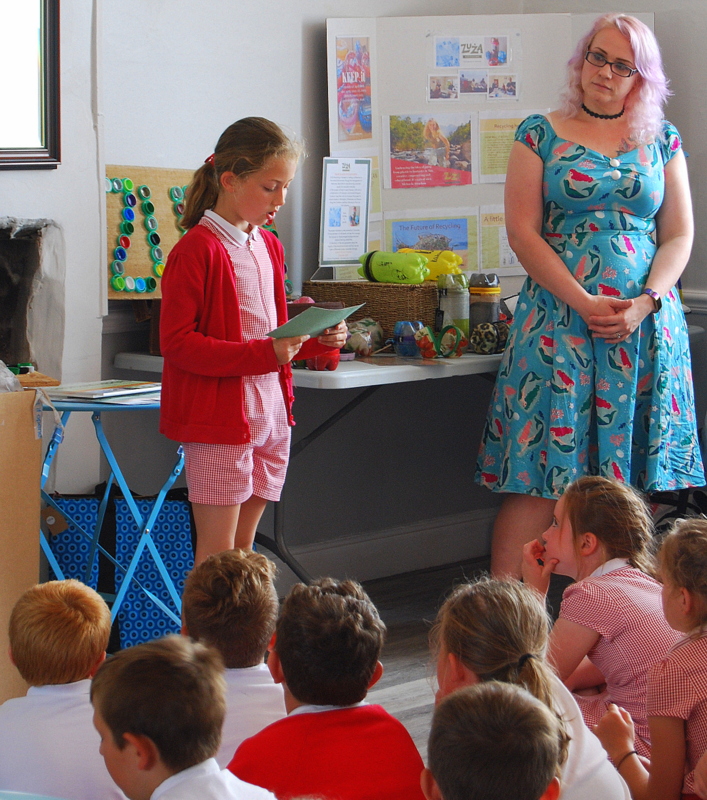 'I was initially a little nervous about how the Schools and children would engage on the collection of the Plastic bottles.
However, I was overwhelmed with the enthusiasm and excitement the children of Maryport had at collecting and being involved in our Recycling Heroes Pilot Project.
Changing the minds of our future generations is truly the best way to tackle the war on Plastic.'
Claire Shepherd - Director Zuza Recycling CIC
'We had a wonderful day celebrating the achievement and reflecting on the key recycling messages from the
Recycling Heroes involved in the Zuza Pilot Project.
I am thrilled that they all enjoyed being part of this project and so pleased that they want to work with ZUZA Recycling again on another project.'
Jade is an artist and Eco-warrior and joins forces with us to focus on improving and maintaining the environmental and ecological balance impacting our world today.
Jade says, 'I am a Fine Art degree and a Masters graduate conducting research funded by Eco Innovation Cumbria, University of Cumbria, in partnership with Zuza Trading and Zuza Recycling, and I hope to gain valuable experience through this waste re-purposing project that will improve my knowledge and skills for my up and coming PhD.'
Through an interdisciplinary art practice, she will be exploring the ethical complexity of materials used within art and our culture, such as plastics with the aim to experiment with recycling these plastics and alternatives (or the application of these alternatives), in an attempt to offer potentially ethically sound solutions to part of the overwhelming environmental crises.
Also combating the ever growing concerns of waste buildup as it not only affects our day to day lives but also contributes to our future, and together we aspire to be a part of that change for the better.
Working in collaboration with Zuza Recycling she hopes to gain valuable experience through our waste re-purposing project.
ZUZA RECYCLING HEROES PILOT CELEBRATION
The Settlement, High Street, Maryport on Tuesday, July 16, 2019 1:00 PM 3:30 PM
We are celebrating the accomplishment of the participating schools and students, who took part in ZUZA TRADING's Pilot Project., our Recycling Heroes! This year long pilot project has reached it's end and we are here to celebrate their accomplishment.
'Zuza Recycling shares our vision to educate and empower the next generation about sustaining our amazing planet. With a good heart and the right resources anyone can make a real difference.
Please help us make the vision, a reality!'
Huge thank you to THE MARYPORT SCHOOLS PARTNERSHIP
ALERT! NEW PLASTIC DROP OFF POINT
Recycling Heroes...
Please note that your saved plastic bottles can now be deposited at The Moody Cow. Allonby
more depots to follow …
This Eco-project involves transforming parts of waste plastic bottles into two storage container type products with many uses including the very popular I-PET and KEEPET.
Both products can be personalised with graphics to meet corporate branding or key messages and affirmations.
This is based on an established project in South Africa and has retailed these products for 9 years in South Africa and recently exporting to Europe and USA.
The founding member of the SA project will provide expert advice to help the U.K. version of the project get established.
A Pilot project will start in early Spring 2019 with a collaboration of 10 schools in and around Maryport and we then aim to introduce the project to school clusters in Workington, Whitehaven and Barrow along the Cumbria coastline, following our Pilot.
The Pilot will also allow the time for Zuza Recycling a new Social Enterprise to be setup and for suitable funding options to be explored for the bigger project.
The project mandate is under-pinned by 2 principles:
1) Empowerment: of individuals with less than average life chances I.e. disadvantaged backgrounds and physical/learning disabilities.
2) Education: of the next generation about the fragility of the natural environment and how we can make a difference to stop irreversible damage.
LAUNCH OF PILOT SCHEME is SPRING 2019
If you are interested in learning more or are interested in sponsoring this social enterprise pilot project, please contact Claire.
Claire Shepherd- info@zuza-trading.co.uk